Sunday, November 27, 2011
Sunday December 4th from 10:00am to 5:00pm
Come and make as many Christmas cards as you would like for $1 each.
Everything will be precut.
All you have to do is stamp and assemble!
Prize drawings throughout the day!!
Come and get all your Christmas cards made in one day.
Please RSVP by 11/30/11 musthavestamps@gmail.com

Tuesday, November 15, 2011
This is the birthday card I made for my daughter. It uses the Cricut Art Philosophy cartridge and one of the stamp sets that comes with the cartridge. In fact everything on this card was cut on my Cricut using the Art Philosophy cartridge except the ribbon!
The card base is 5", the black layer is 4 3/4", and the Roxie layer is 4 1/2". The cupcake pieces are cut at 2 1/2" and the banner at 3". The stamp sets that coordinate with the Art Philosophy cartridge have the correct cutting size right on the stamps carrying sheet. This makes it so easy. You just cut out your shape according to the printed size and then stamp with the matching stamp. Fits perfectly everytime! You can go to my website to look at everything that comes with the cartridge.
http://musthavestamps.myctmh.com/
I used the Roxie paper and Silver Glitz Glitter Gel (Z1482)
(the cupcake bottom is cut from the alternate side of the plaid Roxie paper)
The colors used were Desert Sand, Black, and Tulip.
All supplies used are from Close To My Heart.
Saturday, November 12, 2011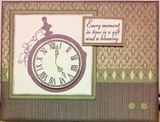 This is the third card for my November card class.
All supplies are Close To My Heart.
Size is 5 1/2 x 4 1/4
This card features the stamp set Key Moments (B1392) and the paper pack is Sonoma. The diamond pattern at the top and the stripe pattern at the bottom are from a two sided paper. The green with diamond piece in between is the "zip strip" from the top of this two sided paper. I cut the circle that the clock face is stamped on from the Art Philosophy cartridge because I wanted to put foam tape under it to pop it out to give the clock face dimension. There is also foam tape under the saying.
I cut two 1/4" green circles from the Art Philosphy cartridge to put on the bottom right corner to balance it out. All of the paper edges were sponged in Cocoa.
The colors used were Cocoa, Olive, and Smokey Plum.