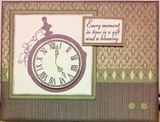 This is the third card for my November card class.
All supplies are Close To My Heart.
Size is 5 1/2 x 4 1/4
This card features the stamp set Key Moments (B1392) and the paper pack is Sonoma. The diamond pattern at the top and the stripe pattern at the bottom are from a two sided paper. The green with diamond piece in between is the "zip strip" from the top of this two sided paper. I cut the circle that the clock face is stamped on from the Art Philosophy cartridge because I wanted to put foam tape under it to pop it out to give the clock face dimension. There is also foam tape under the saying.
I cut two 1/4" green circles from the Art Philosphy cartridge to put on the bottom right corner to balance it out. All of the paper edges were sponged in Cocoa.
The colors used were Cocoa, Olive, and Smokey Plum.